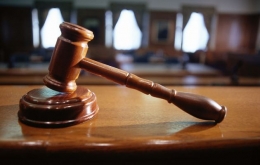 Judiciary is one the three arms of Government of Uganda charged with the responsibility to oversee justice in the country. The Constitution of the Republic of Uganda Article 126 (1) spells out the mandate of the Judiciary: "Judicial Power is derived from the people and shall be exercised by the Courts established   under this Constitution in the name of the people and in conformity with the law and with the values, norms and aspirations of the people."
To ensure justice under a democratic state, the Constitutions outlines key principles to follow while handling court cases. These principles are outlined in Article 126 (2) as follows:-
•    Justice shall be done to all irrespective of their social or economic status;
•    Justice shall not be delayed;
•    Adequate compensation shall be awarded to victims of wrongs;
•    Reconciliation between parties shall be promoted; and
•    Substantive justice shall be administered without undue regard to technicalities.
The courts shall furthermore be independent and shall not be subject to the control or direction of any person or authority.
The judiciary has core role to promote the rule of law and contribute to the maintenance of order in society in Uganda. Its functions focus on administering justice through resolving disputes between individuals, and between the State and individuals.
Leadership:
The Chief Justice is the head of the Judiciary providing leadership for the administration and supervision of all courts in Uganda including those that do not administratively fall within the Judiciary. The Courts may issue orders and directions to the courts necessary for proper and efficient administration of justice.
For more Infomation visit: Judiciary