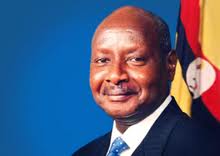 The existence of the Presidency is provided for by articles 98 and 108 of the Constitution of Uganda respectively. Article 98 of the Constitution states that there shall be a President of Uganda who shall be the Head of State, Head of Government and Comander-in-Chief of the Uganda Peoples Defence Forces and the Fountain of Honour.
The Constitution of the Republic of Uganda vests all the executive authority in the Presidency to uphold, safeguard the Constitution and Laws of Uganda, promote the welfare of the citizens and protect the territorial integrity of Uganda.
The Presidency provides leadership in public policy management and good governance through the Office of the President departments like Cabinet Secretariat, Directorate of Ethics and Integrity, Directorate of Economic Affairs and Research, Security Organizations (Internal Security and External Security Organization) and National Honours and Awards Chancery.
The Current President of Uganda is HE Yoweri Kaguta Museveni
27th Jan 1986 - date
Former Presidents
President Sir Edward Luwangula Walugembe Muteesa II
09 Oct 1963 - 02 Mar 1966
   
President Apollo Milton Obote
15 Apr 1966 - 25 Jan 1971
President Idi Amin Dada (Field Marshall)
25 Jan 1971 - 11 Apr 1979
President Yusuf Kironde Lule
13 Apr 1979 - 20 Jun 1979
President Godfrey Lukongwa Binaisa
20 Jun 1979 - 12 May 1980
President Apollo Milton Obote
17 Dec 1980 - 27 Jul 1985
President Tito Okello Lutwa (General)
29 Jul 1985 - 26 Jan 1986
The institution of State House facilitates and supports the President, The Vice President and their families while the private offices in particular provide the official linkages with government, the foreign diplomats and the general public.
URL: State House Website