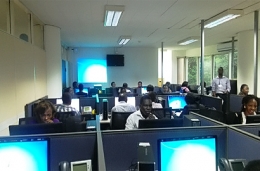 As a first step to address employment challenges, Ministry of Finance has allocated Shs. 44.5 billion towards creating jobs in the financial year 2011-2012.
The following interventions shall be implemented:-
A Youth Entrepreneurship Venture Capital Fund will be established together with the DFCU Bank, for which a proposition of Shs. 25 billion has been made. This will be used to support youth starting or expanding their business enterprises.  The loan sizes will range between Shs 100,000 to Shs 5 million or 20% of injected equity for youth group investments.
Enterprise Uganda, shall undertake Youth Entrepreneurial Training Programme to instill business management skills among the youth, to enable them join the job market or create their own enterprises. A total of Shs 3.5 billion has been allocated for this purpose.
Enterprise Uganda shall also undertake Business Development Skills clinics in collaboration with the private sector and Uganda Small Scale Industries Association (USSIA), with special focus on imparting technical skills to youth, using non-formal vocational training programmes and the ministry of finance has allocated an additional Shs. 1 billion specifically for this purpose.
Dedicated work spaces will be established in markets starting in Kampala, in which youth and other small scale manufacturers under the Job Stimulus programme will undertake manufacturing and other processing activity. I am proposing to allocate Shs 16.5 billion for this purpose.
In order to achieve the above goals in the financial year 2011-2012 the implementation of these measures will be closely monitored and fine tuned to achieve the required outcome of increased employment.
For More Infomation Visit Ministry of Gender, Labour and Social Development