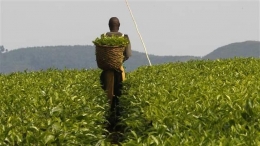 The National Development Plan identifies agriculture as a vital contributory growth sector capable of reducing poverty and stimulating economic growth. Accordingly, in FY2011/12 priority interventions will focus on increasing production and productivity, agro-processing and increase enterprise efficiency through commodity value chains.
Government will also continue with the ongoing efforts to provide affordable finance to enable farmers acquire necessary infrastructure to promote transformation to commercial agricultural production.
Eligible projects in the agricultural sector, including the construction of warehouses and silos to improve storage, will therefore be financed at a preferential interest rate of 10 percent per annum for a maximum period of eight years, following the depressed performance in the last year.
In order to increase sustained production, Shs. 133 billion has been allocated will to the National Agricultural Advisory Services (NAADs) to increase the commercialization of improved seeds and other planting materials. Seed and agro-genetic propagation companies will be contracted within a long term framework to multiply improved seeds and planting materials, which will be delivered in time for planting during successive seasons over the forthcoming five years.
The Ministry of Agriculture, Animal Industry and Fisheries will also enter into long term framework contracts with certified animal breeders for the multiplication of improved breeds of livestock. NAADs will also continue to provide extension services across the country.
A major constraint to agricultural production is the availability of water. Government has allocated Shs. 5 billion to the Ministry of Water and Environment to provide irrigation and water harvesting technologies in collaboration with the private sector.
The availability of storage for crops has been a major constraint leading to the destabilization of food and other commodity supplies to the market. Ministry of finance is allocating Shs. 2 billion for the rehabilitation of small-scale warehouses across the country at sub-country level.
Furthermore, the private sector will be encouraged to access funding from the Agricultural Credit Facility to construct warehouses and silos to improve storage. In future, large warehouses and silos will be constructed by Government at regional level across the country.
For More infomation visit: Ministry of Agriculture